Congratulations to our Academic UIL Competitors and Coaches! Yesterday, students from WO Elementary competed at Sabine Elementary in our regional UIL meet. WO Elementary took 2nd overall in the meet with a total of 647 points...just 35 points shy of first place! We are proud of our students and coaches who made this possible!

This Friday ONLY, December 9th, anyone who purchases a full lunch meal will receive a free ice cream!! Thank you, Ms. Blenda and our cafeteria ladies!
White Oak Intermediate's Remarkable Roughnecks for December are L. Shields and C. Hartmann.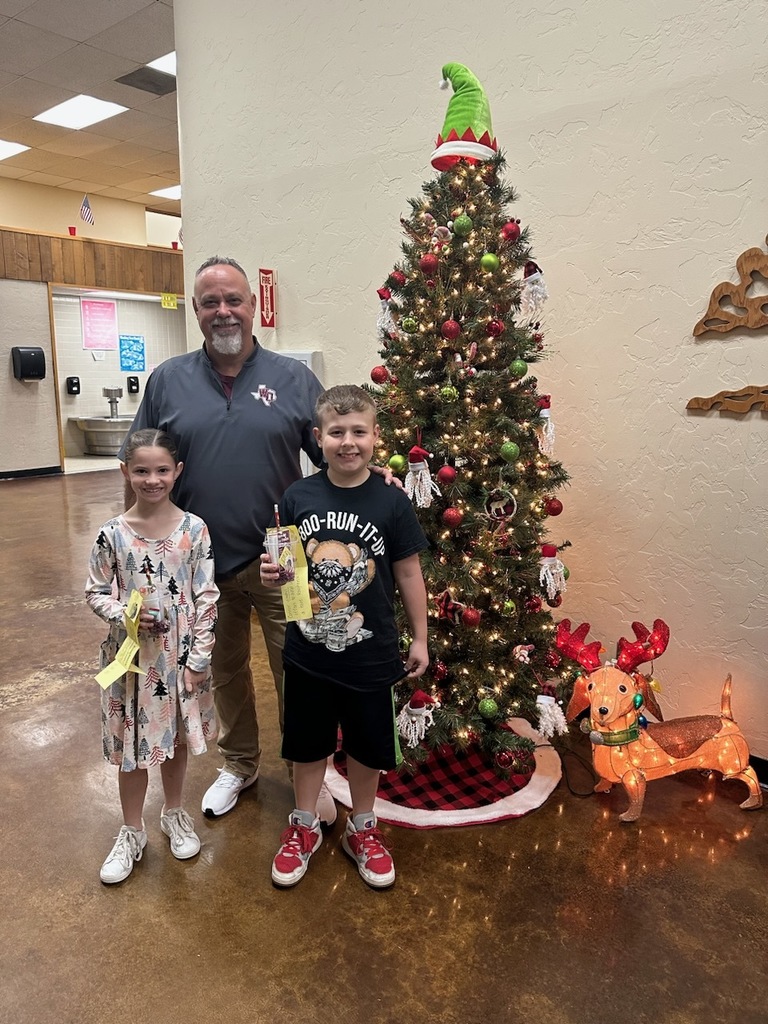 A big thanks from Elementary Librarian, Shelby Skeen, "Thank you to the White Oak Education Foundation for awarding me with this grant for $1,000. My goal is to expand the Nonfiction section in the library."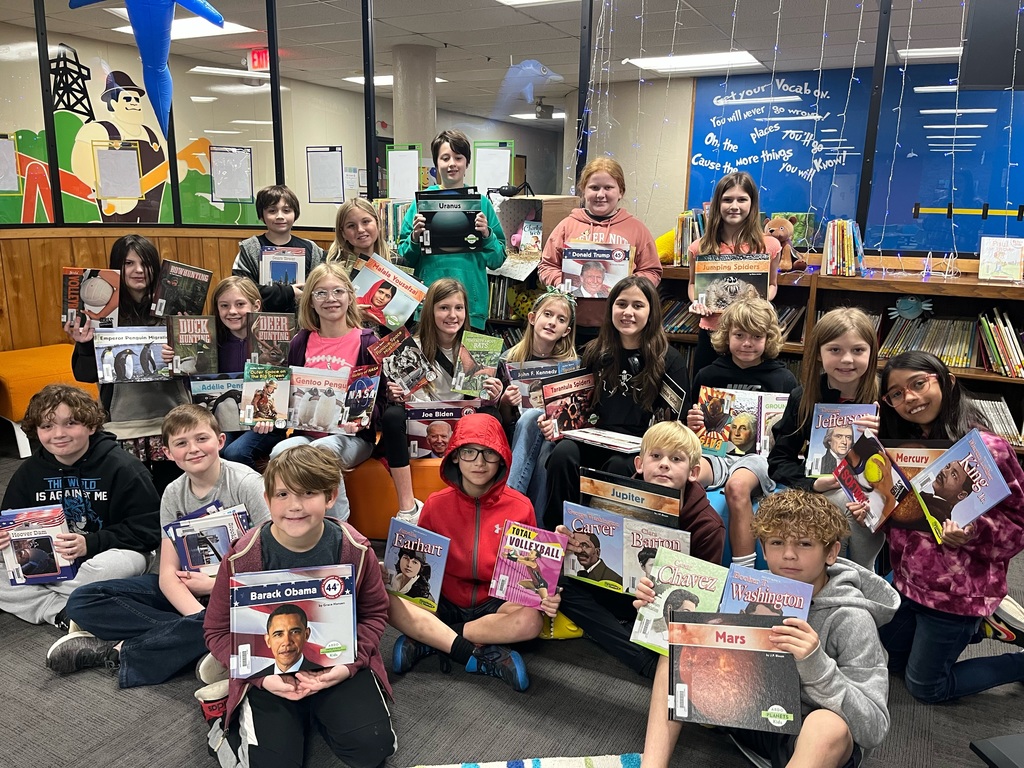 Guess who's coming to the White Oak Library this week? SANTA! He'll be here December 8th (Thursday) at 6:00pm to read a story and take pictures. Mark your calendar!

You are invited to the Annual City of White Oak Christmas Parade tonight, Monday, December 5th, at 7:00 p.m. The route that the parade will follow will begin at City Hall and end at White Oak High School. Cookies and pictures with Santa will be at City Hall between 5:00 and 6:30 pm before parade time. We hope to see you there. Merry Christmas!
Shout Out to PTO/Intermediate Paint Party!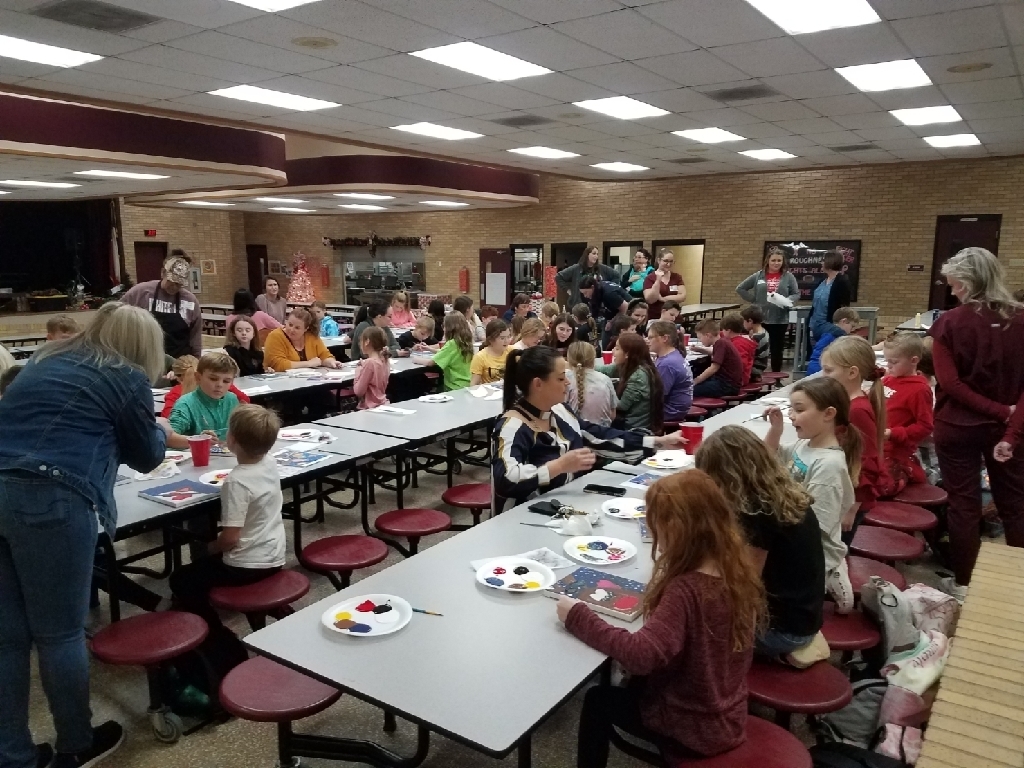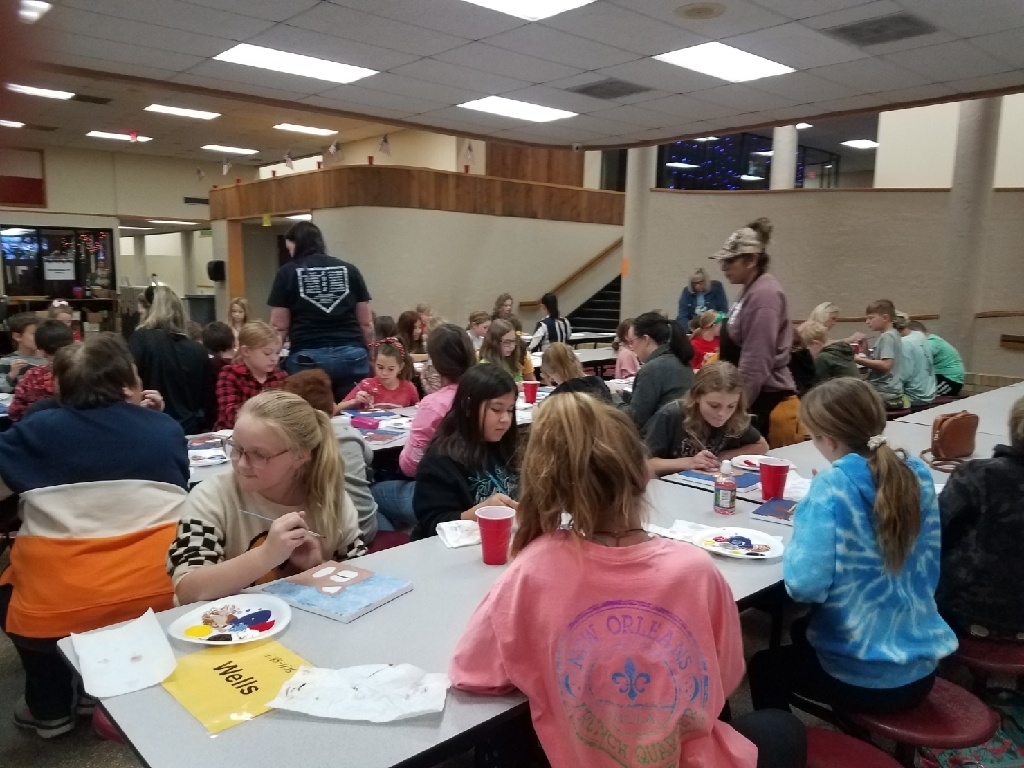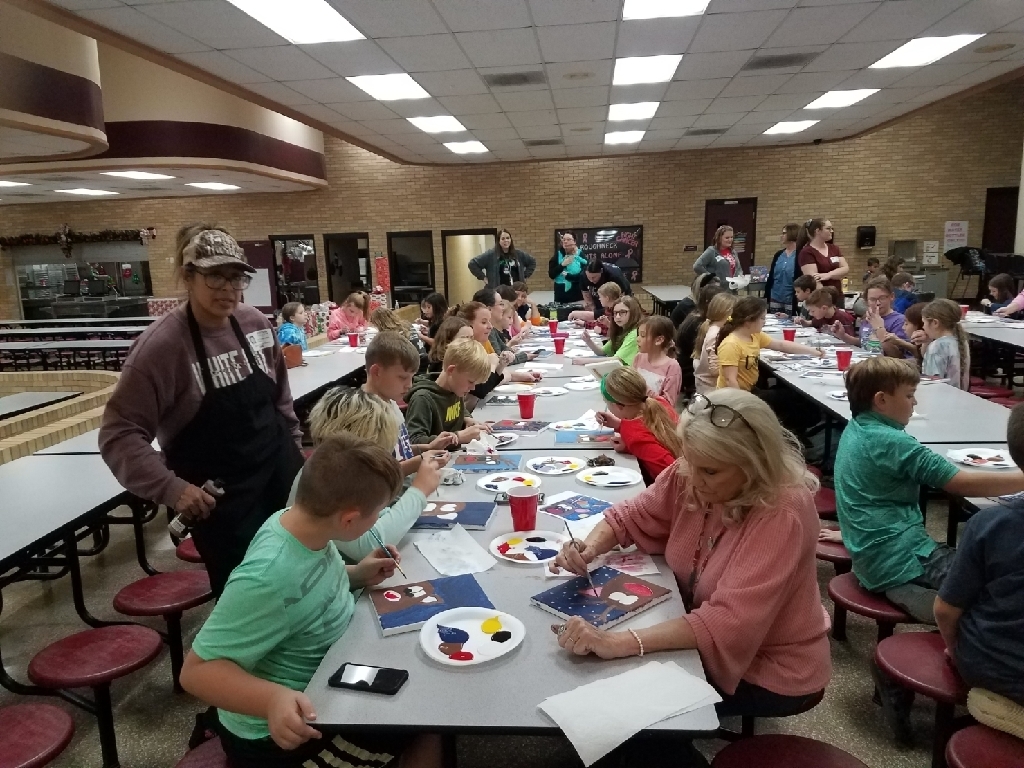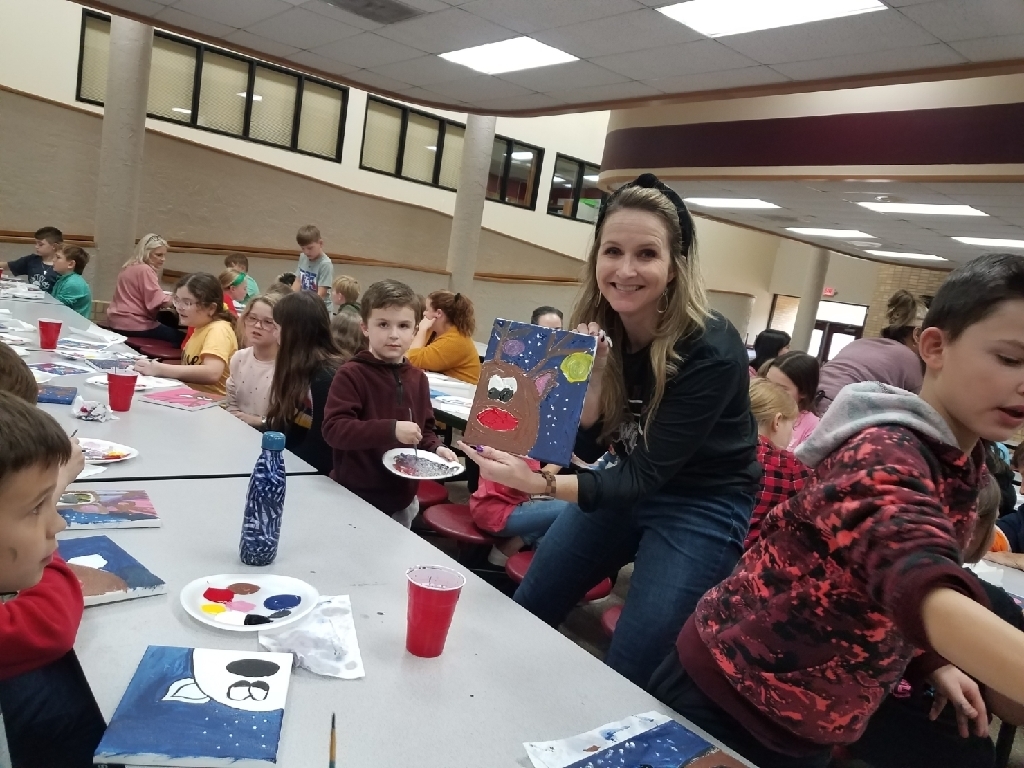 TONIGHT... Last PTO Meeting for 2022 🤪 🍁 Tonight, NOV 28th at 6pm in the Elementary Cafeteria... 🍁 Q&A with Superintendent Mr. Gray 🍁 Get updated on PTO Happenings * Who Can Attend?? - Community Members, Parents, Grandparents, Teachers, Students...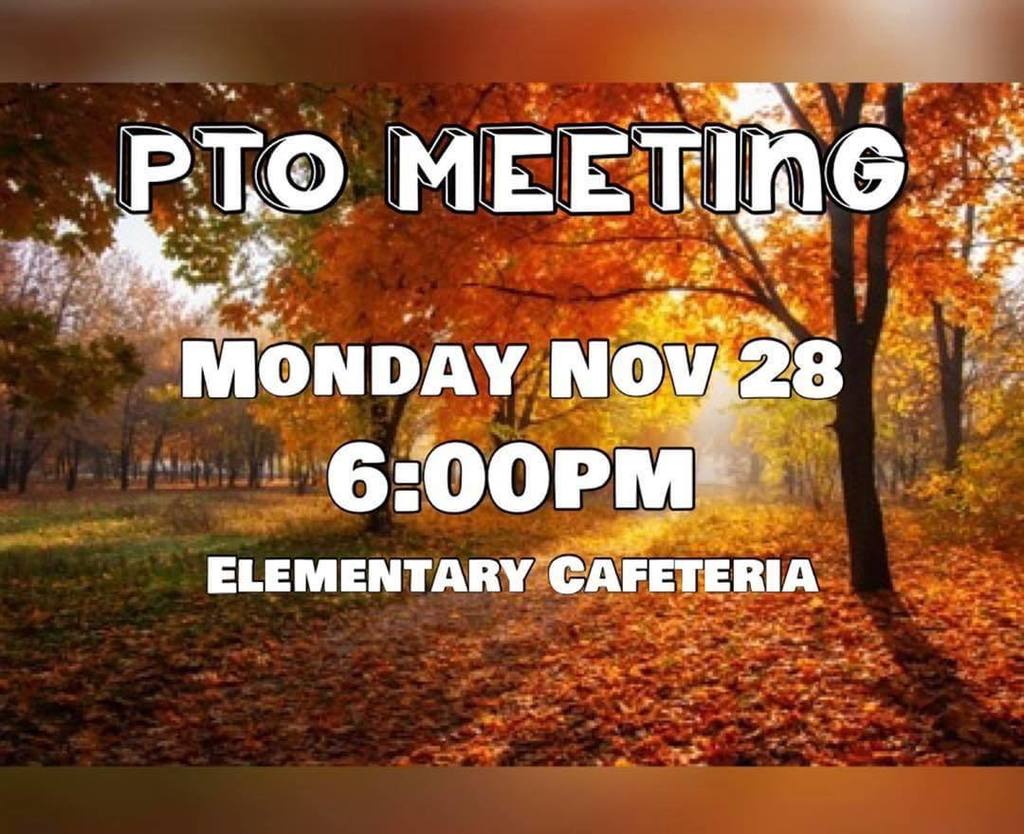 December is going to be a busy month, so here is a list of important dates for events happening over the next few weeks. Parents, please make note of these.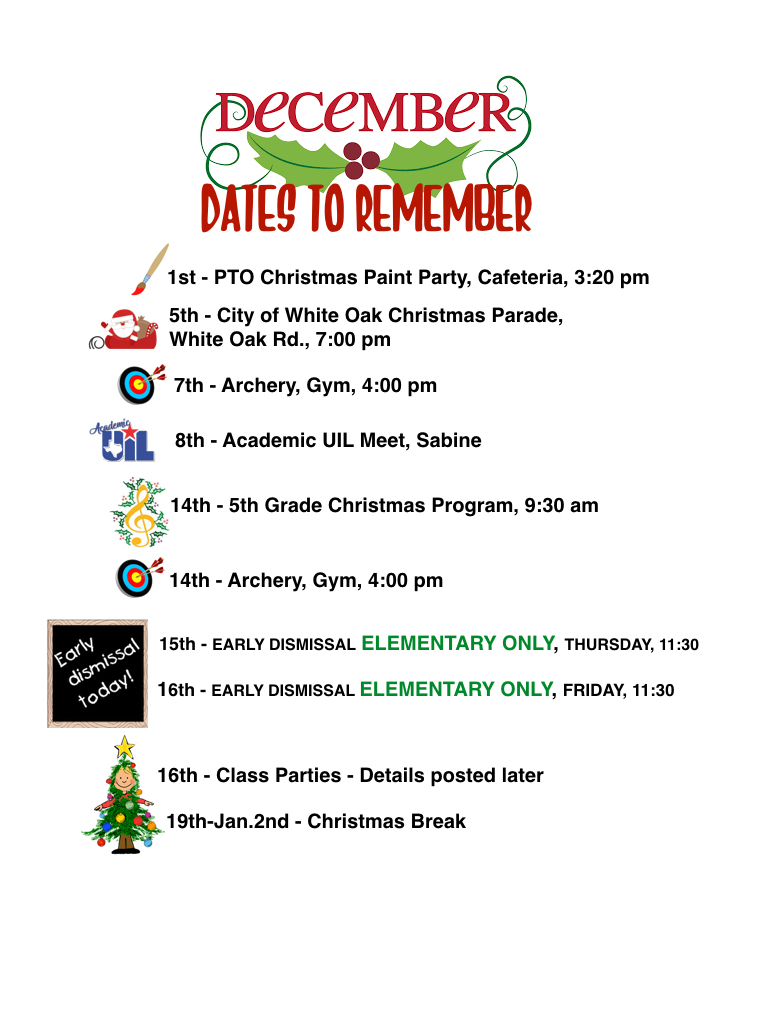 For students who would like to participate, December 12-16th will be a week of fun themes. Check the image for details.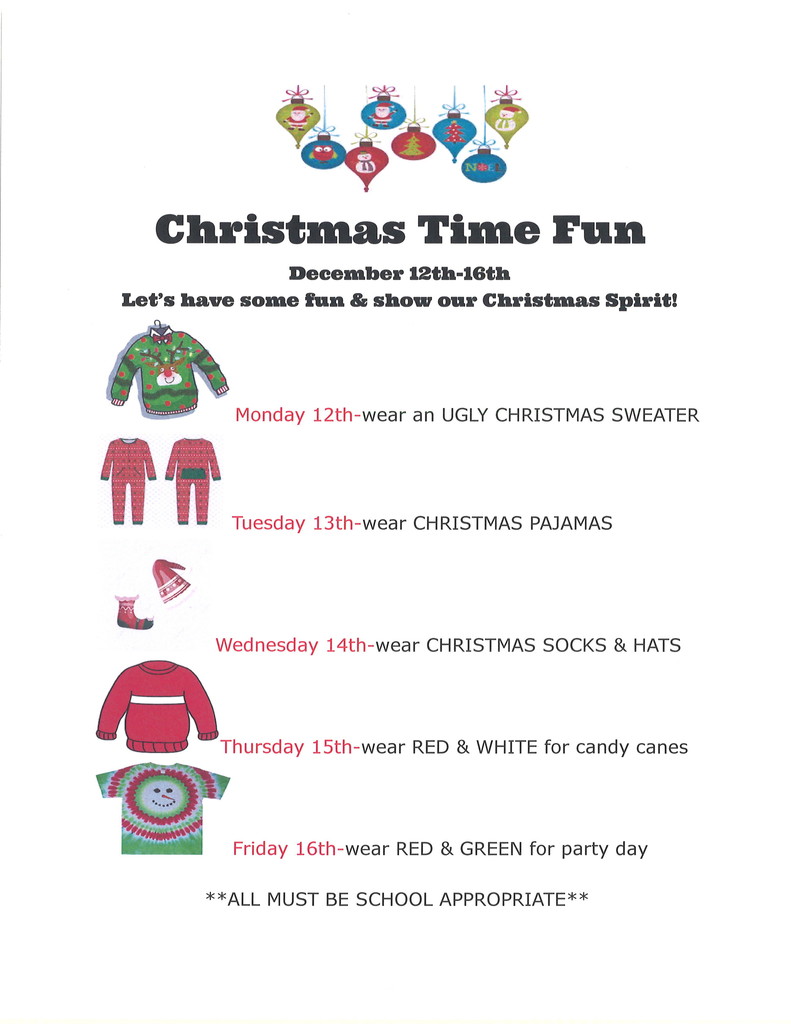 Mr. Oynes' 5th grade math class had good time using money in real life budget scenario.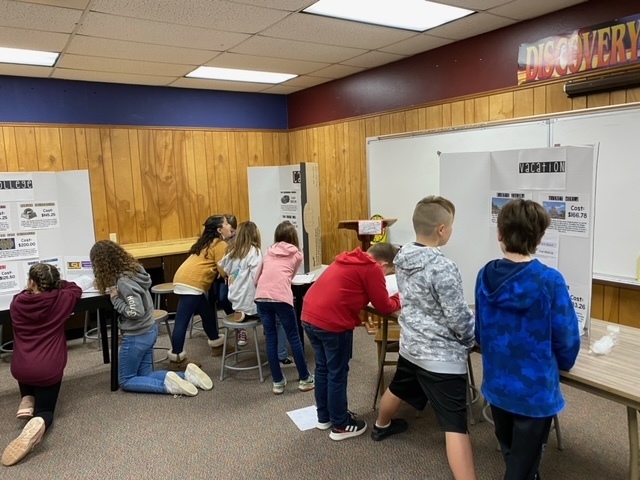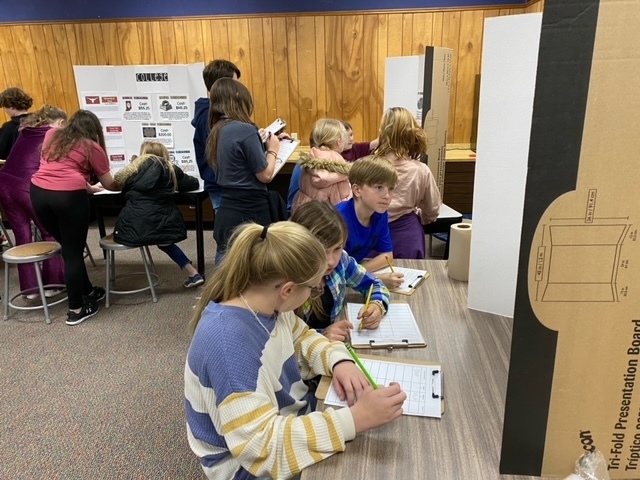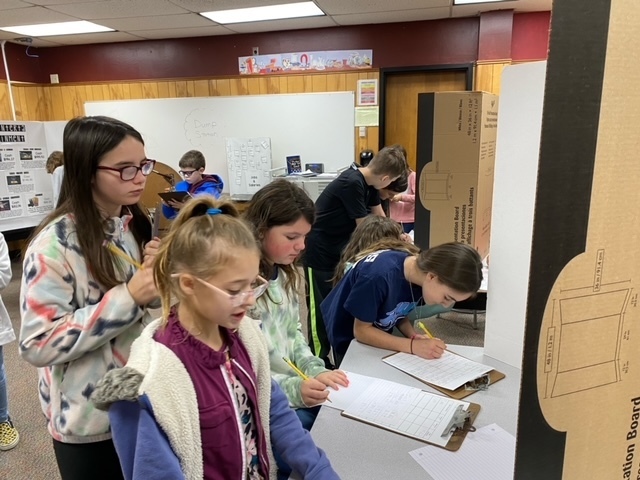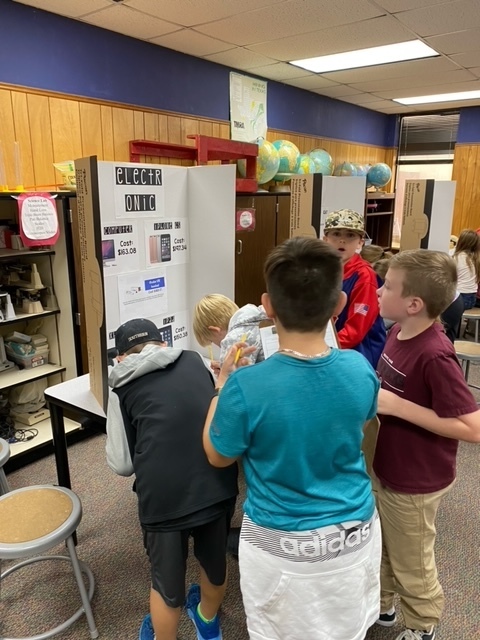 Mrs. Peery's 5th Grade GT students create interactive board games using circuits, Chrome Books, a game board, and block programming.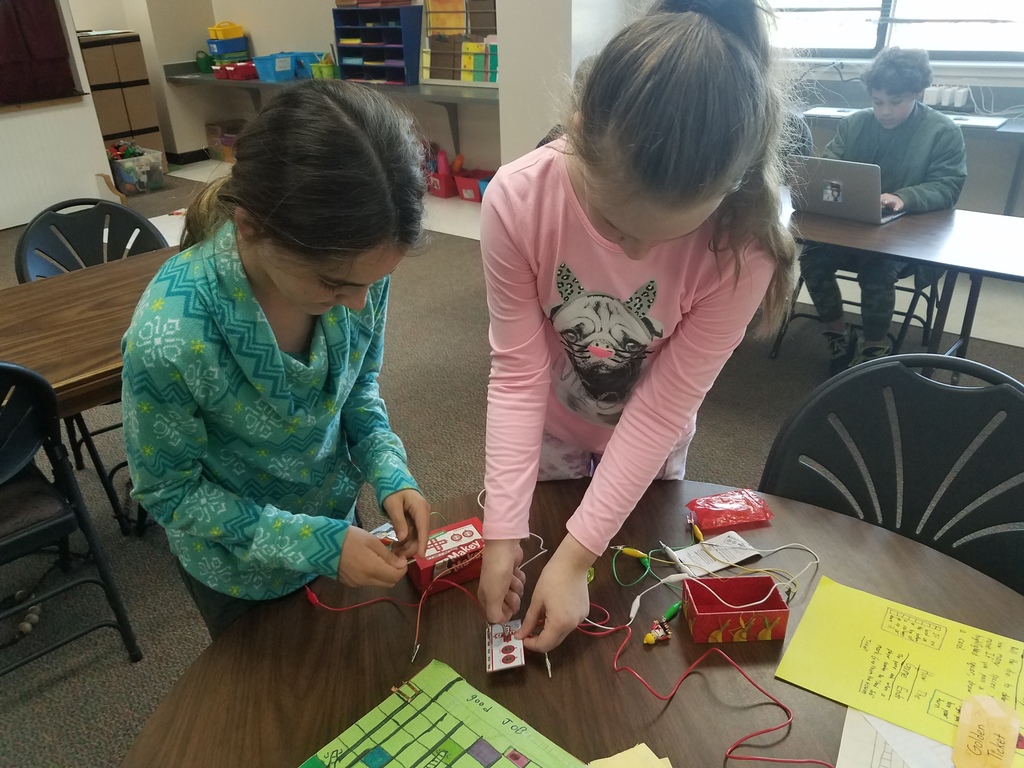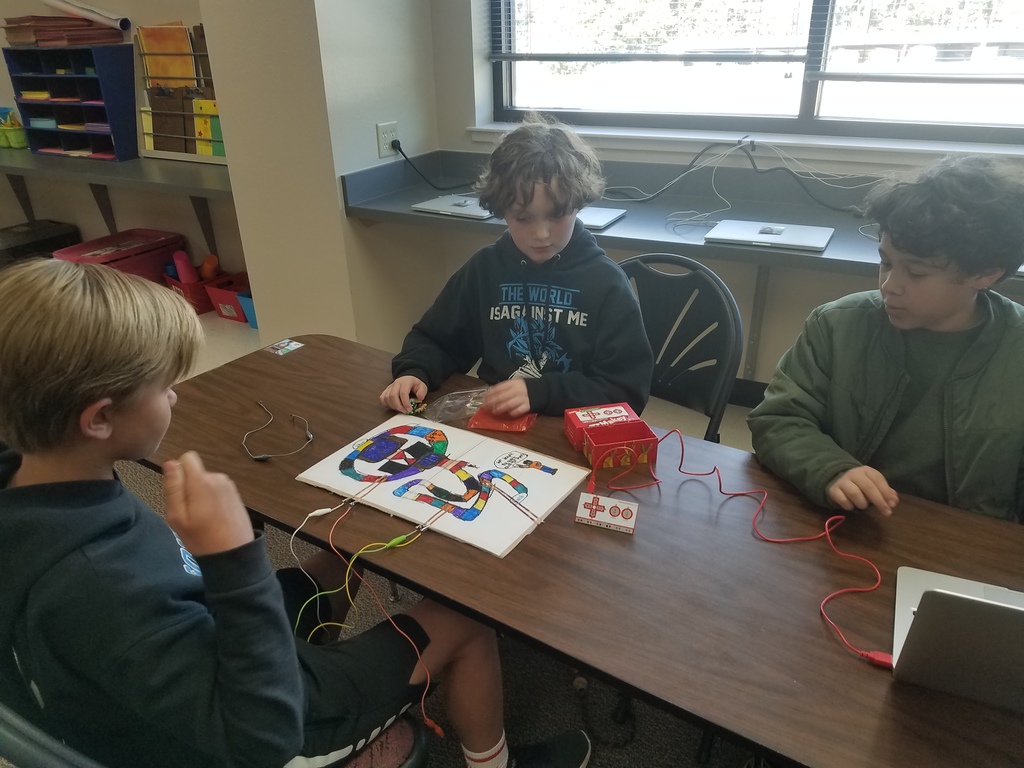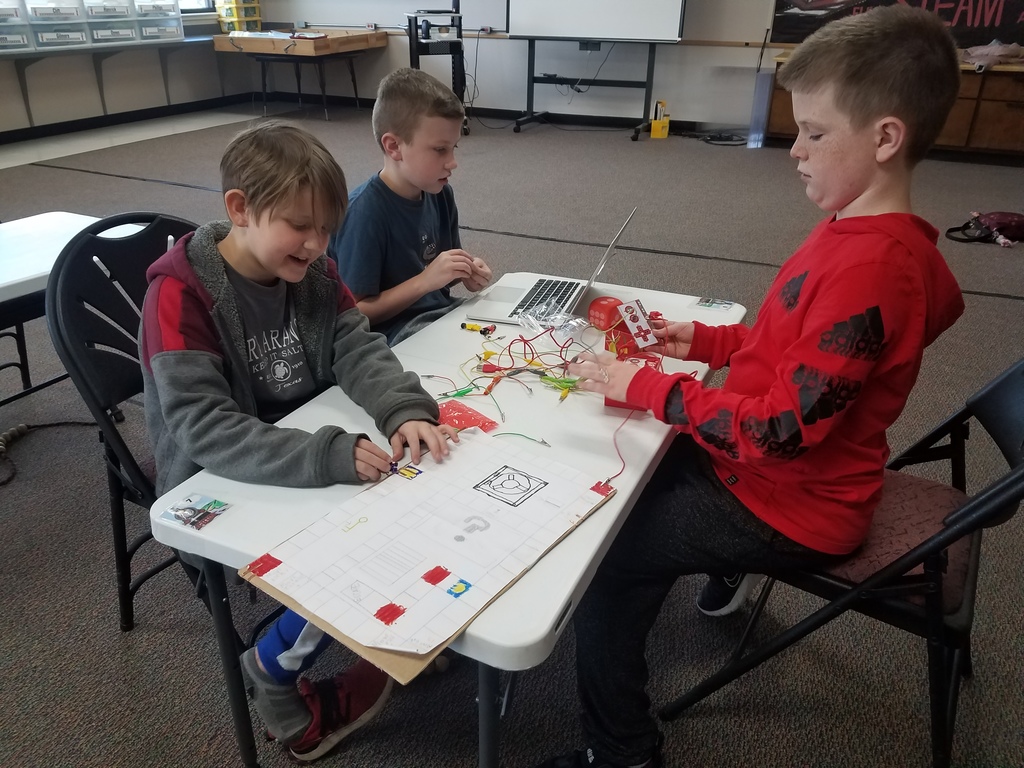 Fifth grade math teacher immersed students in a "glow in the dark" math review for their upcoming assessment. The students LOVED it!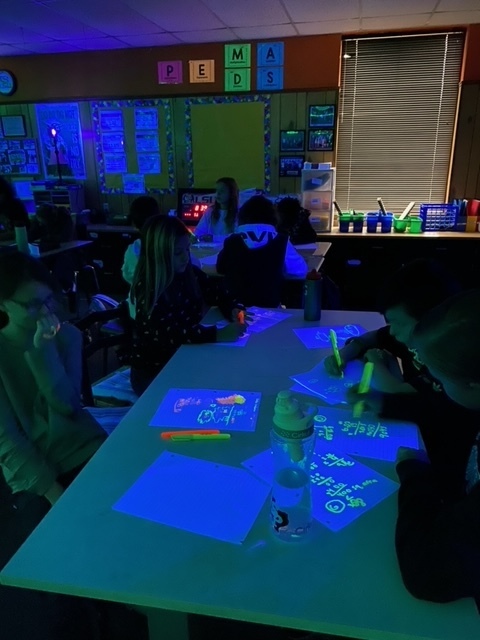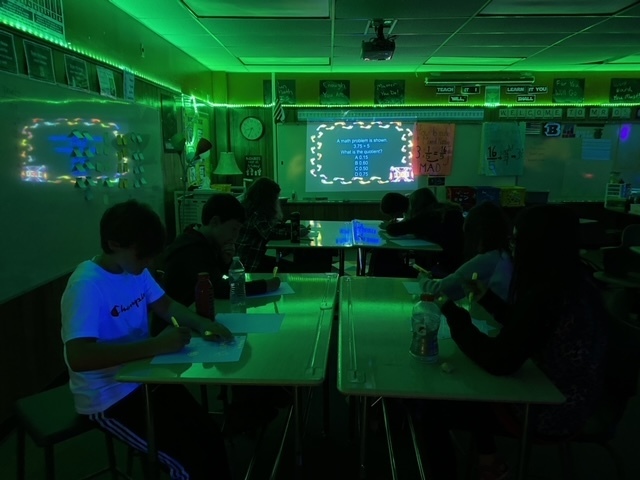 Happy Veterans Day! Here are a couple of pictures of our 4th grade performing at today's Veteran's Day Program.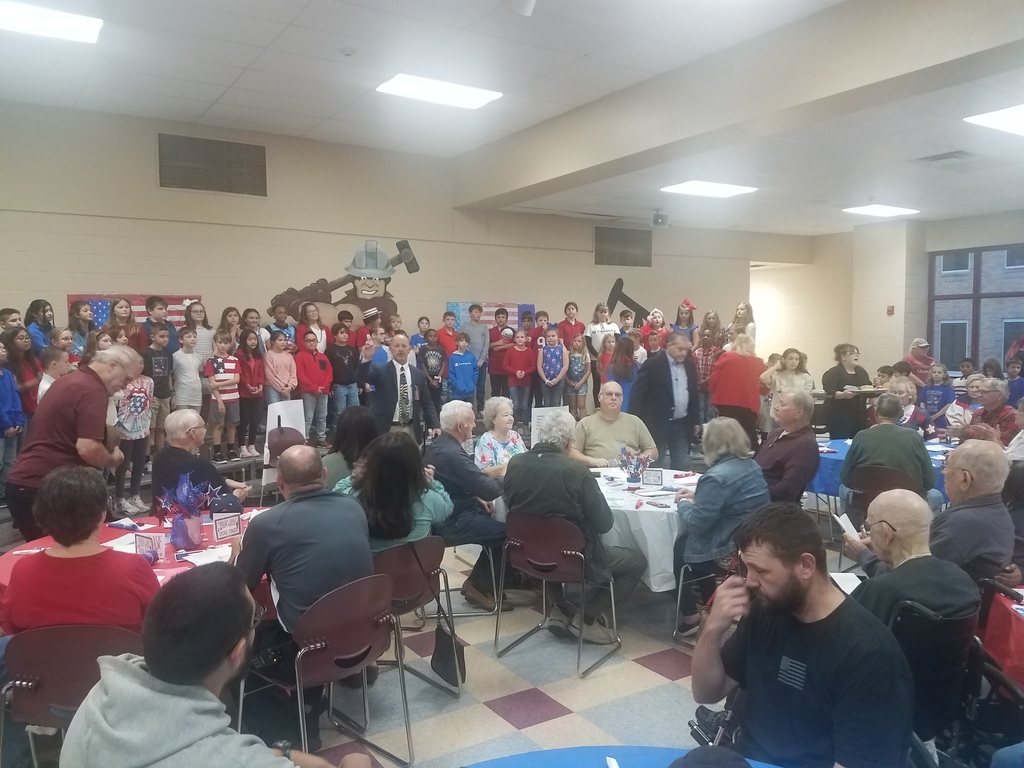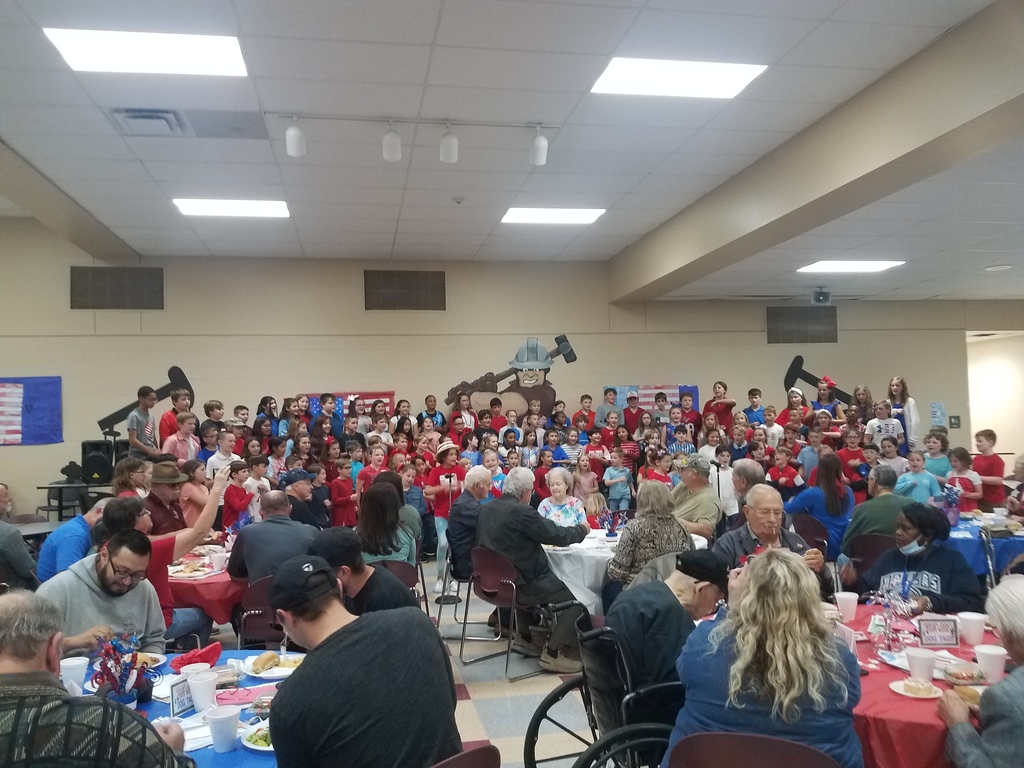 White Oak PTO is planning a Christmas Paint Party for Intermediate Students, Grades 3-5, on Thursday, December 1st. The cost is $15 per person. To-Go-Kits will be available for $20 per kit. You must complete the form for EACH child attending. Please ready the flyer below and print out the registration form to return.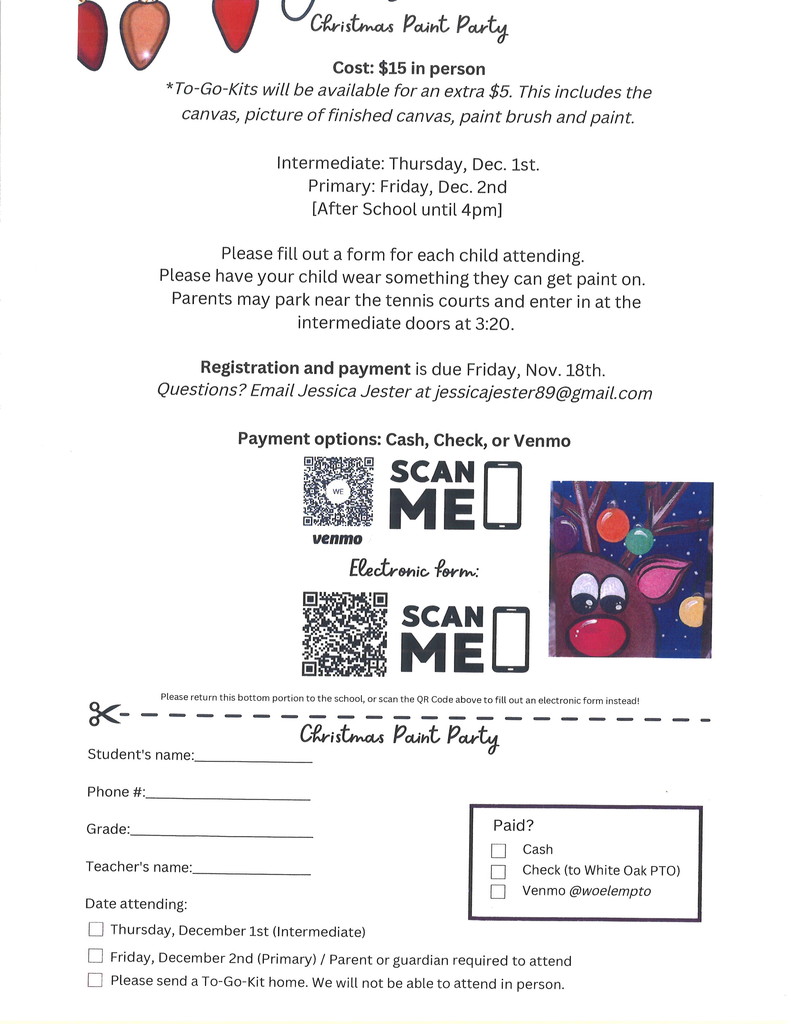 PTO Meeting, Monday, November 28th, at 6:00 pm in the elementary cafeteria.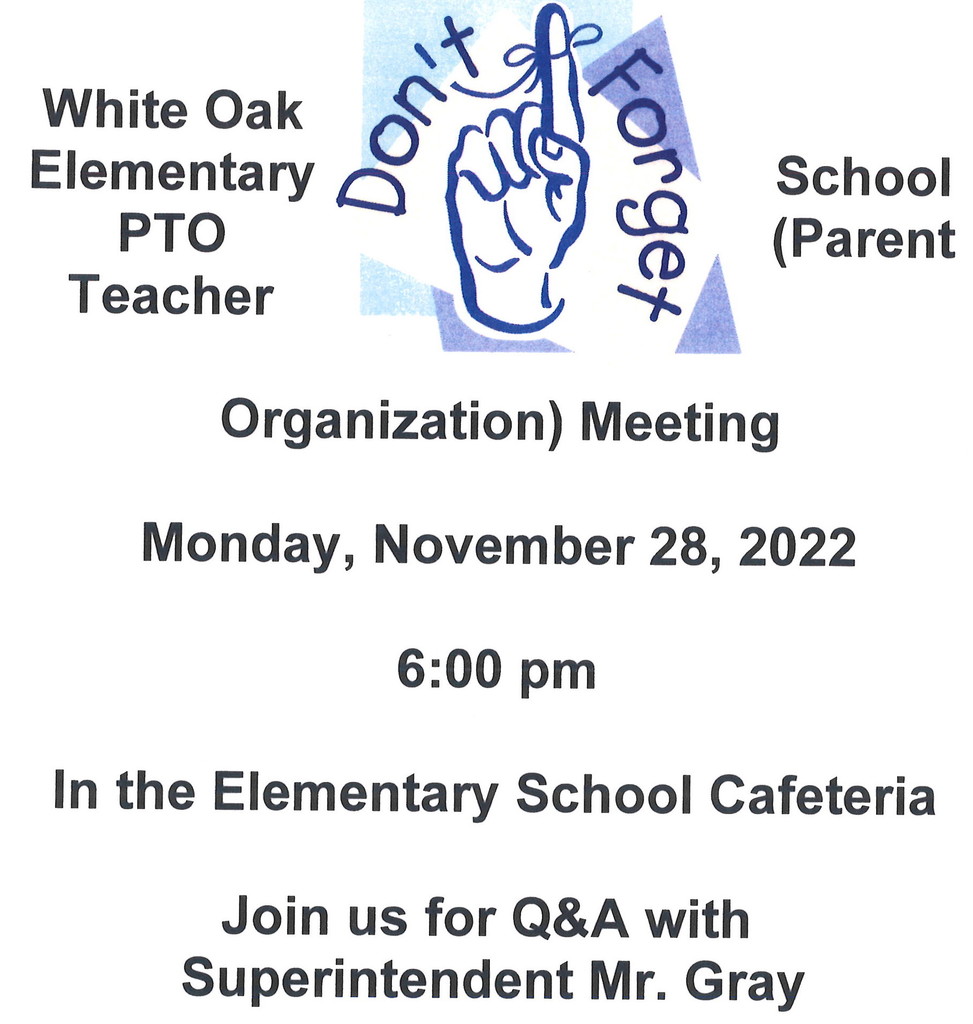 Tentative Archery Schedule: (Subject to change…. updates / changes will be sent out ASAP on campus webpages / live feed and push notifications on the WOISD App as well as FB) Wed. Nov 16 4pm-5:30pm Practice Elementary Gym (ALL-shoot for scores) Wed. Nov 30 4pm-5pm Practice Elementary Gym (K-2nd) Wed. Dec 7 4pm-5pm Practice Elementary Gym (3rd-HS) Wed. Dec 14 4pm-5:30pm Practice Elementary Gym (All -Shoot for scores) Wed. Jan 4 4pm-5pm Practice Elementary Gym (All -Shoot for scores) Thurs. Jan 12 9am-3pm White Oak Tourney (OMS Gym) Wed. Jan 18 4pm-5pm Practice Elementary Gym (All Shooters) January 27 or 28 TBA St. Mary's Tourney Wed. Feb 1 4pm-5pm Practice Elementary Gym (All Shooters) Wed. Feb 22 4pm-5pm Practice Elementary Gym (All Shooters) Tues Feb 28 TBA Harleton Tourney Wed March 8 4pm-5pm Practice Elementary Gym (All Shooters) Mon March 20 4pm-5pm Team Meeting (Prep for State) Elementary Gym March 22 or 23 TBA State Tourney-Belton Texas (Time TBA)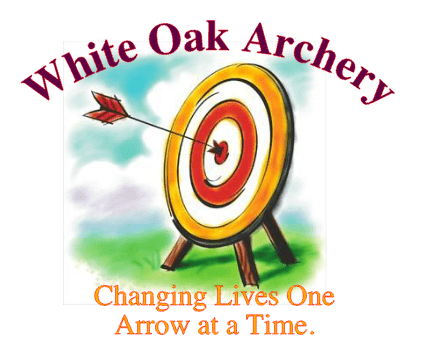 Dear 4th Grade Parent/Guardian: If you are planning on attending the 4th Grade Performance at the Veteran's Day Program today, please note that parking for this event will be behind the Cafeteria near the tennis courts. Please enter the cafeteria from the back side of the school. All parking near the front of the building is reserved for Veteran's and their family members. Thanks, Shane Wright, Principal-WO Intermediate

Parents of students who had fundraiser orders were sent a text message on Sunday, November 6th. PLEASE NOTE that pickup of deliveries will STOP BETWEEN 2:00-3:20 to allow for the safety of our students during afternoon Car Pickup Time. Parents may resume picking up fundraiser orders at 3:20 until 5:00 pm. White Oak Intermediate : The Big Kahuna fundraiser product and prizes are scheduled for delivery on THURSDAY from 1:00 to 5:00 in the GYM of the school . Anyone may pickup your students fundraiser on this day . Thanks for all the help and support. We will delay the delivery during student pickup. Thanks, Arthur Franzke 817 366-2276 Big Kahuna Fundraising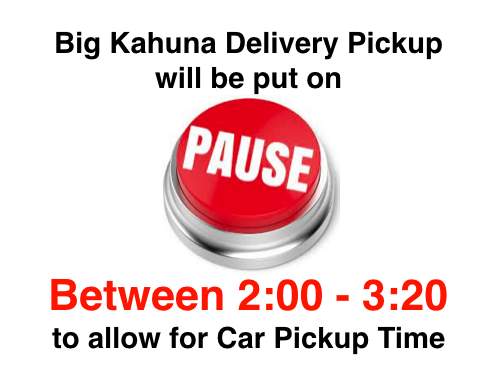 Congratulations to our B.O.B. winners.