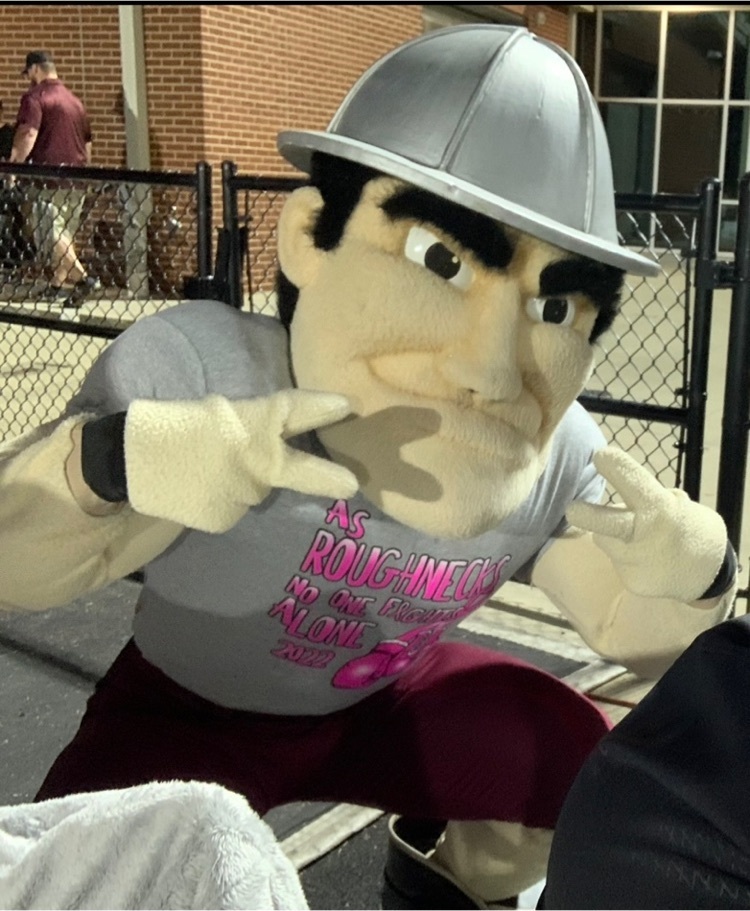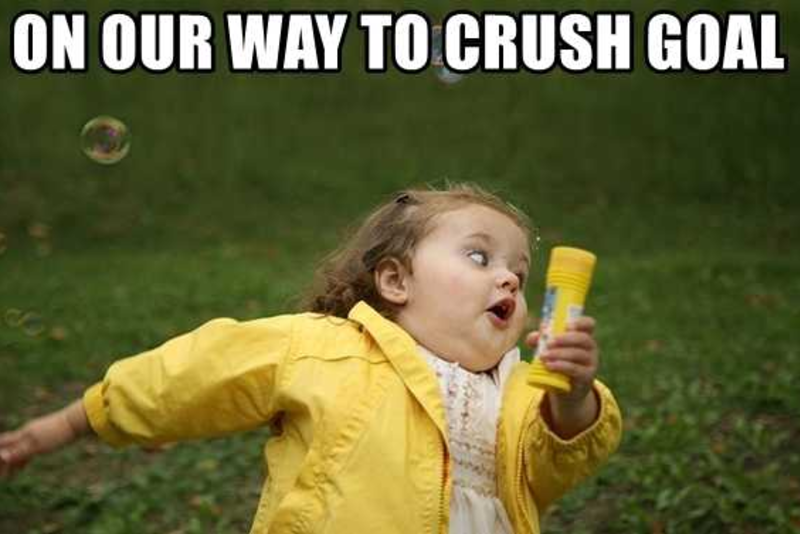 LADYNECK Playoff information!!
SENIOR NIGHT!! Come out and support our Seniors as they play their last home game at E.B. Carrington Gym tonight vs the Daingerfield Lady Tigers.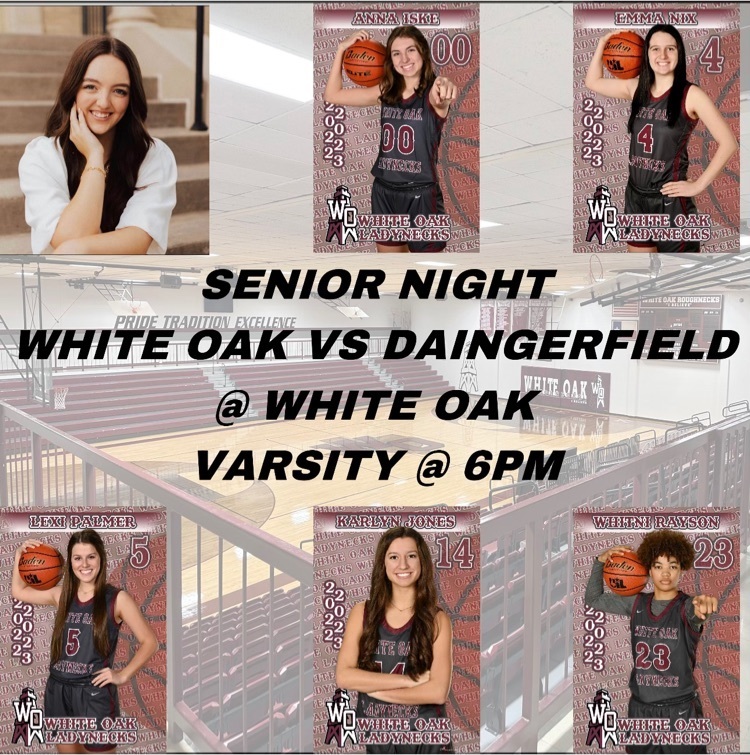 Congratulations to Chloe Bates, our two year Drum Major, on her win for KYKX Band Member of the Week scholarship! #903football Big Thank You to H&W Powersports!!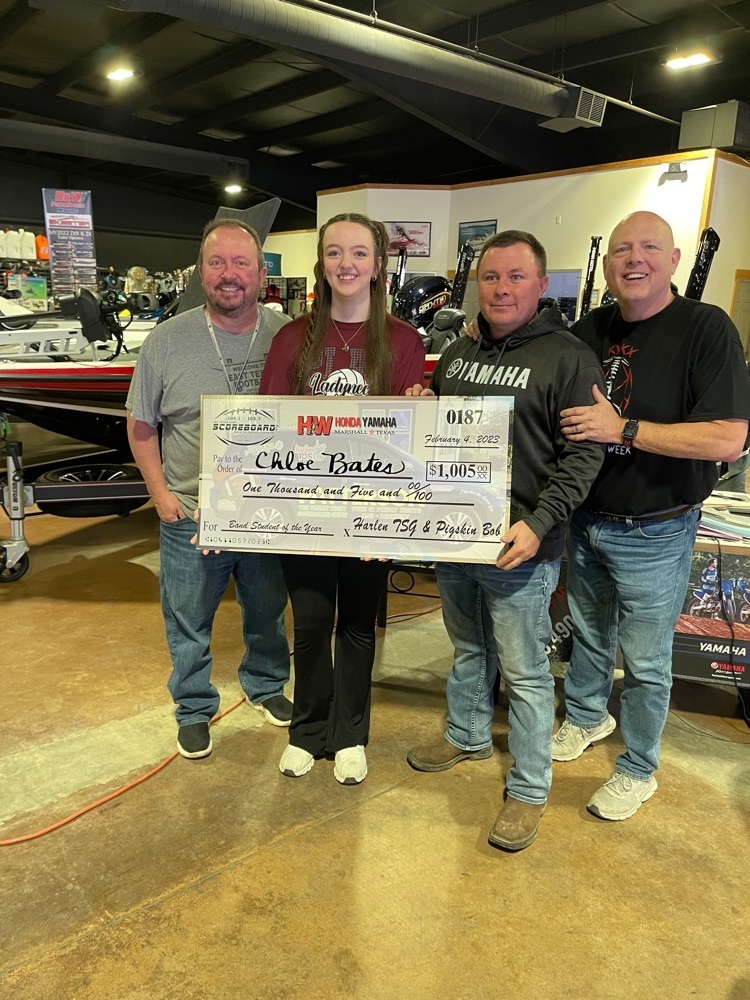 Update: Next Wed., Feb 8 will be archery practice for all age groups 4-5pm @ elementary. Our next tourney will be Feb., 28 @ Harleton......(all groups will compete) .....Times TBD.....We should know early next week. All state qualifications scores will be uploaded by Feb. 8 and we should know mid-Feb who qualifies for the state shoot. Go Roughneck Archery. >>>> ----------- >
Mardi Gras Semi-Formal Dance is THIS Saturday! See Mrs. Sims to purchase tickets. $10 in advance or $12 at the door. Cash, check, or Venmo accepted. Photo packages will be available for purchase. Venmo - Be sure to add the student name and number of tickets purchased.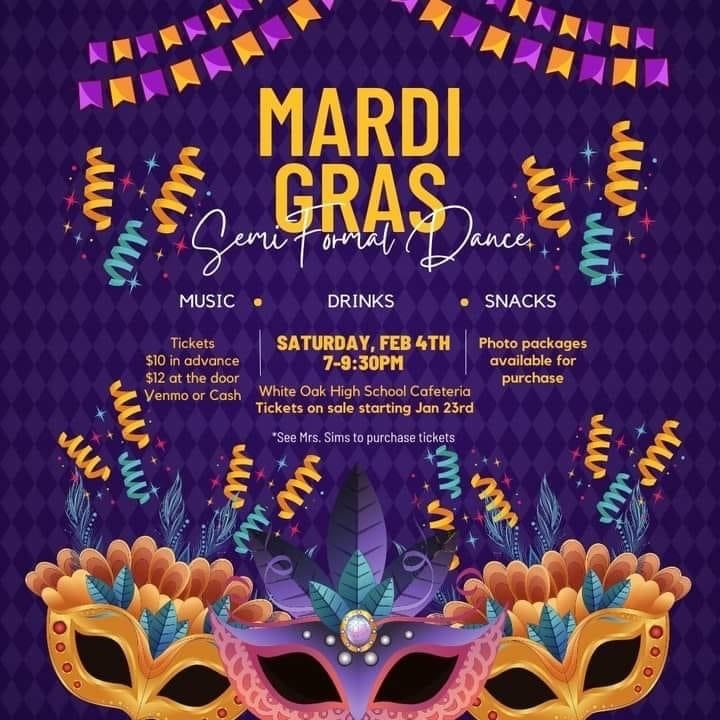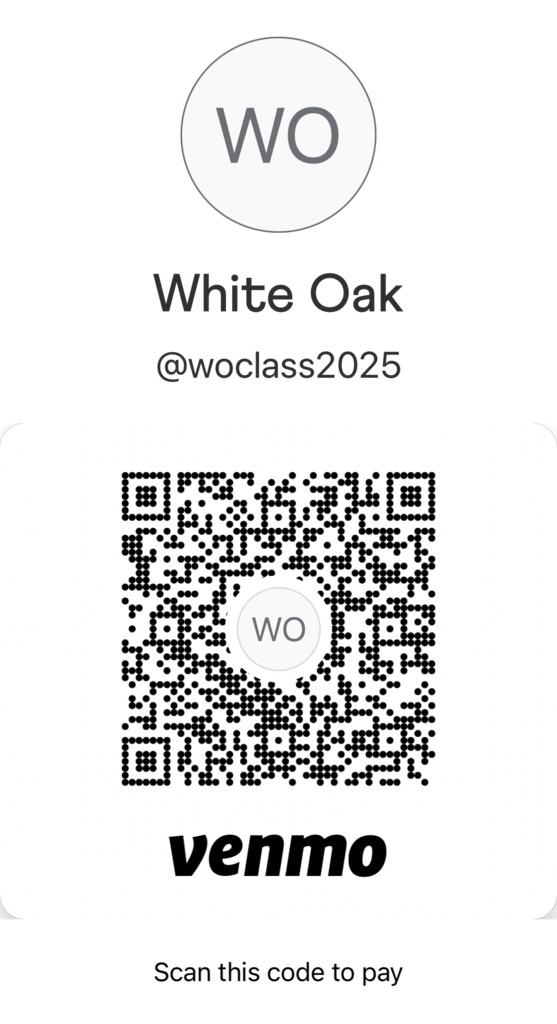 Tomorrow, Wed., Feb 1, WOISD will have a two (2) hour late start..... 10am; buses will run 2 hours late. This is due to possible poor road conditions in the early morning hours. Thank you for understanding.
At the present time, White Oak ISD officials are monitoring local forecasts, weather, wind temperatures, and road conditions. We will notify everyone if need be of early dismissal or cancelation of classes by school messenger and Social Media. Safe driving conditions for our school buses, students, and staff members are our primary concern when making decisions related to inclement weather.
Hey WOHS, Let's Dance!!! This is for all (9-12) of our high school students!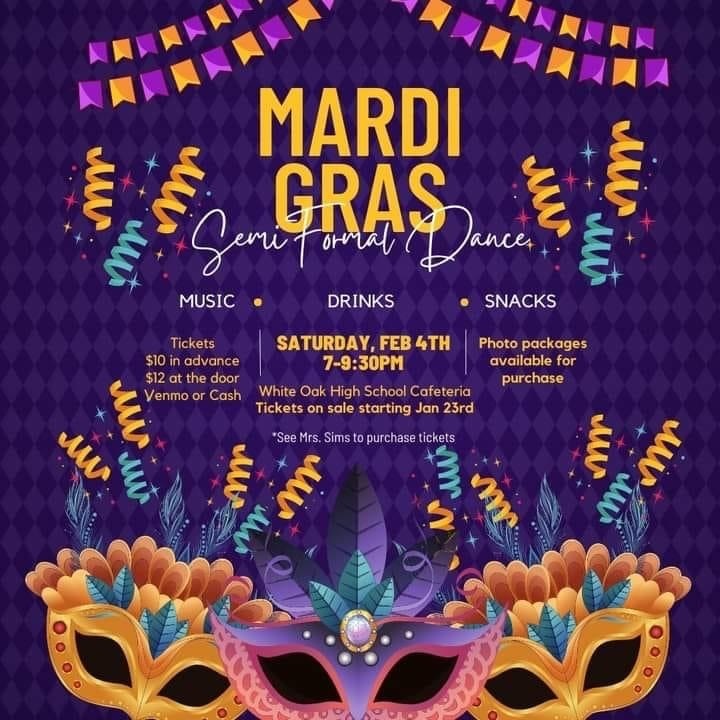 A Great Opportunity to Support our Powerlifting Program!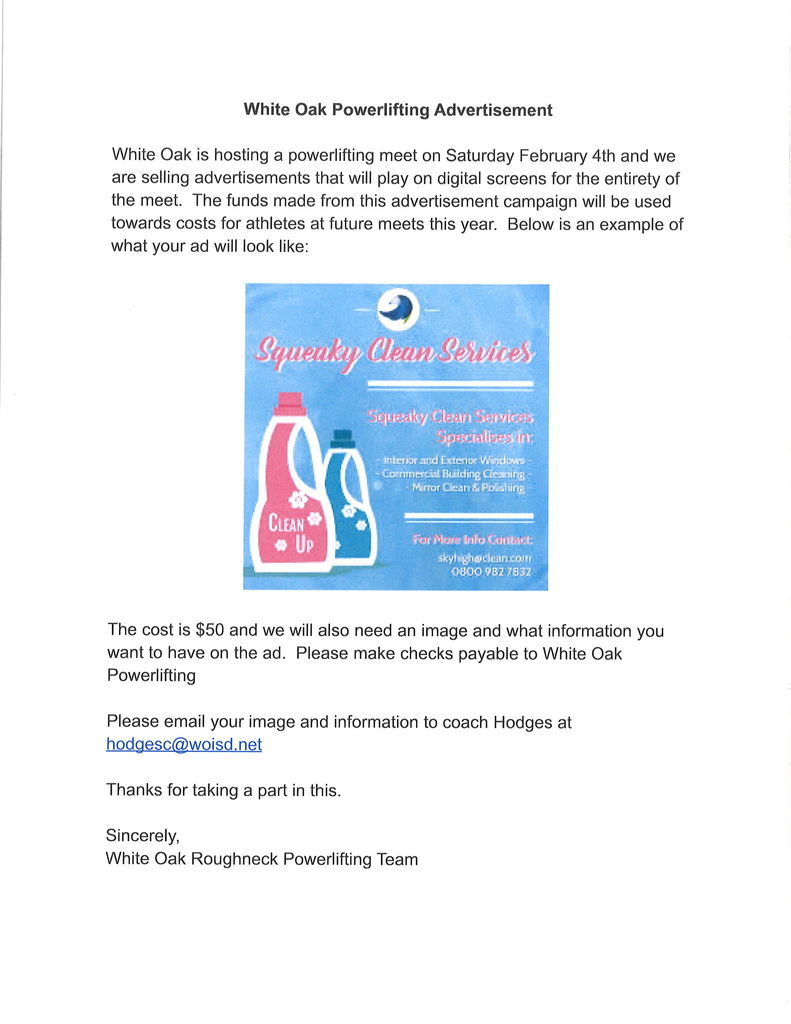 LADYNECK softball fundraiser!!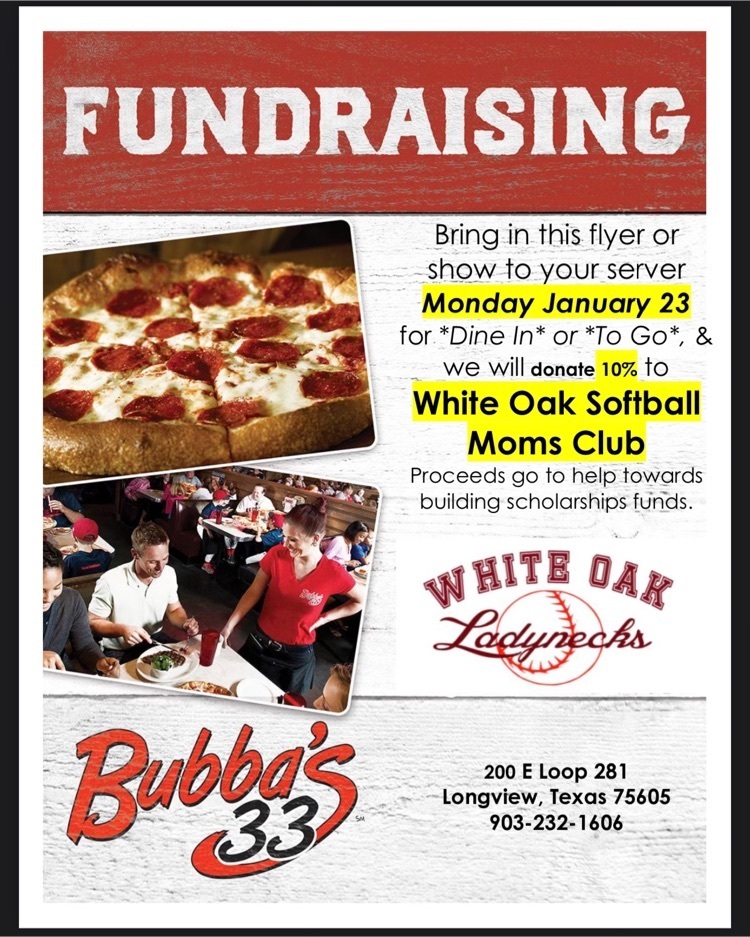 White Oak ISD Staff, Parents, and Community Members, As you are aware, White Oak Trustees have employed Texas Association of School Boards Executive Search Services to facilitate the search for the next Superintendent of WOISD. One component of the search process is to solicit input from staff, parents, and community members. Your input is requested and can be submitted via the web-based survey accessed on the WOISD webpage. The survey not only asks for professional and personal characteristics for the next Superintendent, but also inquires as to what are the strengths of WOISD (what's good) and what concerns or challenges face WOISD (what needs attention). The survey will be open through January 30. * Is the survey anonymous? Yes, all responses go directly to TASB offices in Austin. No one at White Oak ISD has access to responders' personal identification. * What happens to survey responses? All responses will be delivered to White Oak ISD Trustees in a report format. Trustees will see all responses. The new Superintendent will also be given a copy of the report with all responses. This will provide useful information to the new Superintendent as it will provide valuable information on where he/she needs to focus their time and energy. Let me encourage you to take time to complete the survey. It really is useful information TASB ESS and Trustees utilize during the search process.
https://survey.alchemer.com/s3/2069797/Leadership-Survey-White-Oak-ISD-2023
Roughneck fans!! A few more changes for the week. The White Oak FFA Degree Ceremony will be Thursday as planned. The White Oak Christmas band concert will move to Friday @ 5:30. We apologize for the changes but work as team to make sure that we get all of our extra and co curricular activities in before we leave for the semester break. Thank you for your patience and understanding. GO ROUGHNECKS!!!!!!
We will be moving the band concert from tonight to Thursday night at 6:30. Please stay safe and monitor the weather!
Big shoutout to Dylan Manshack for presenting to our journalism and videography students today!! Dylan is a professional journalist and videographer and had a wealth of knowledge for our kids!! GO ROUGHNECKS!!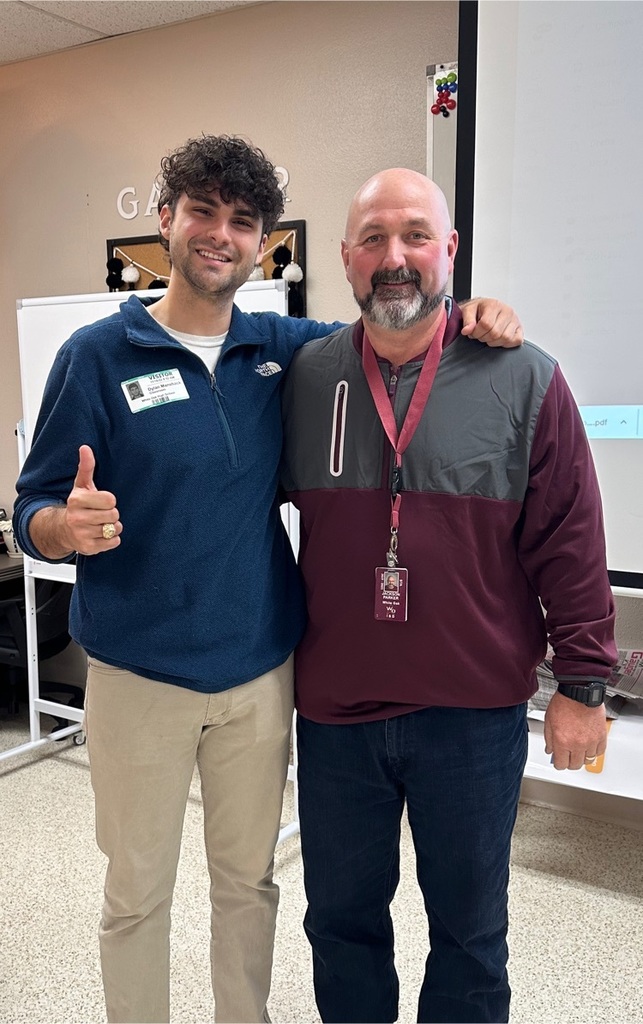 Game Day!! 🏀 White Oak Ladynecks!! Will be traveling to Hawkins today. JV @ 5:00 and Varsity @ 6:00pm. Hope to see everyone there!