Roughneck Baseball site, dates and times: We will play at North Forney vs Boyd Thursday @ 2:30 Friday @ 12 Saturday if needed at 4
Graduation Highlights!!! Quick look at the White Oak High School Class of 2023 (highlight video). More to come soon!!!
https://vimeo.com/828696553
While we are all disappointed that we are not holding our graduation ceremony at our traditional venue, please rest assured that every effort is being made to make this graduation ceremony as memorable and honorable for the Class of 2023 as possible. Please contact Principal Jack Parker with all questions and concerns. (903 692 2725)
2023 Class 3A State Journalism Champions!!! Kate Dusek, Coach Karen West, Alli Simms, & Chloe Bates!! Great Job Ladies!!! GO ROUGHNECKS!!
WOISD wants to send a huge Friday thanks to all the law enforcement, parent groups, staff and other organizations who worked yesterday (and daily) to ensure the safety of our staff and students! On behalf of WOISD, Dr. Paul
WOHS Class of 2023 parents. Tomorrows activities will be exciting for you and your graduate. This reminder, only our students and staff will be allowed in the Primary, Intermediate and Middle School campuses. We will allow parents to enter WOHS after you have gone though the check in process through the main entrance. We want to make this time special for you and your graduate and keep our campus and kids safe at the same time. Thank You for understanding.
White Oak family, It was brought to my attention this evening that there was a post on the Facebook group "all things Longview" regarding a threat made to all Texas schools tomorrow via SnapChat. At this time, we have no evidence to suggest that this threat is legitimate. However, we are committed to keeping the children of WOISD safe and take all information related to safety seriously. We will be in school tomorrow. We have contacted police and they will be on high alert and visible tomorrow at all schools. Campus guardians have been made aware and have been trained on how to handle these situations. The safety of our students and staff is of the utmost importance. We look forward to seeing you tomorrow. If you have any questions please feel free to contact your campus office or myself: 979-2229-9532 Dr. Paul
WOHS Chromebook Information.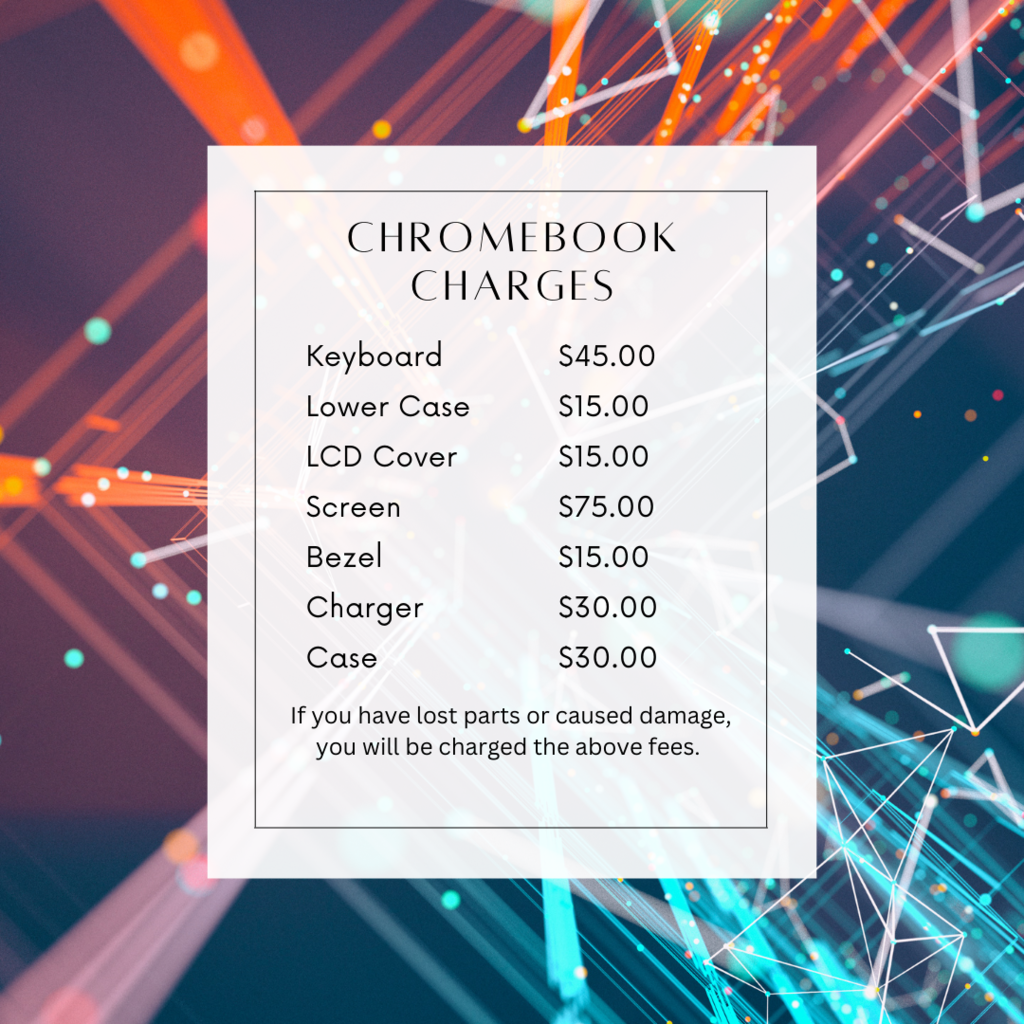 "Break a leg" White Oak High School One Act Play!!! If you can't get to Austin tomorrow for the Class 3A UIL State Championship, give us a shout out!! "Break a leg" is a phrase that means "good luck." It's typically said to actors before they go on stage before a performance. Special Thanks to Lesa Wright Photography for a dynamic photo shoot!!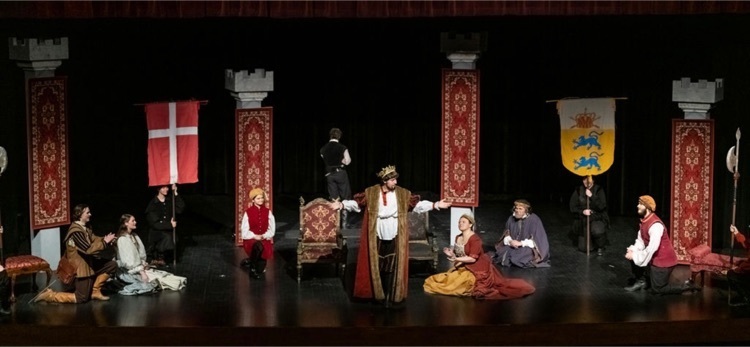 White Oak, TX, May 4, 2023-White Oak ISD is proud to announce that Mr. Jackson Parker has been named assistant superintendent effective July 1. Parker brings over 30 years of educational experience and 15 years of administrative experience; 14 years at Elysian Fields High School and currently serves as White Oak High School principal. "Mr. Parker has a wide range of experience on both the academic and extracurricular front which is central to White Oak's success," Superintendent Dr. William Paul said. "Just knowing about his history and what I've heard and observed, he fits the bill of someone that can take our district to new heights." Parker earned his bachelor's degree from Stephen F. Austin State University in 1991. He played two years of college football there as well as two years at Trinity Valley Community College. From there he earned his master's degree in educational administration from Lamar University in 2011. "I am excited to make the move to district administration," Parker said. " After becoming the principal of WOHS, I truly believe that we have the best ISD in Texas and I want to be a part of a WOISD team that moves the bar forward and higher for our students and staff. I bring 31 years of experience in many different areas: classroom teacher, coach, athletic director, assistant principal and high school principal. I want to assist Dr. Paul in his vision to remove obstacles for teachers, support campus administrators and support the students and families of WOISD."
We will send the Roughneck Theatre Company off in style on Thursday at 8 am. We will leave the back parking lot and make our way to White Oak Rd with a WOPD and WOFD escort. The kids and Mr. Higg have worked tirelessly and have achieved the honor of being one of eight plays left to vie for a UIL State Title on Saturday in Austin . Please come out and show your support for these fantastic kids and their director. GO ROUGHNECKS!!
Sitting outside of the Arlington esports stadium, Austin Williams [12] prepares for the state competition with Levi Kohl [10] and Gabriel Ross [10]. Austin competed in the Super Smash Bros Ultimate competition, placing 13 out of 98 competitors. "It's a little weird seeing the program succeed this early on, but the success wasn't just from me," Williams said. "It had a lot to do with all the members helping along the way."
LadyNecks are Bi-District Champions!!! On to Round 2!!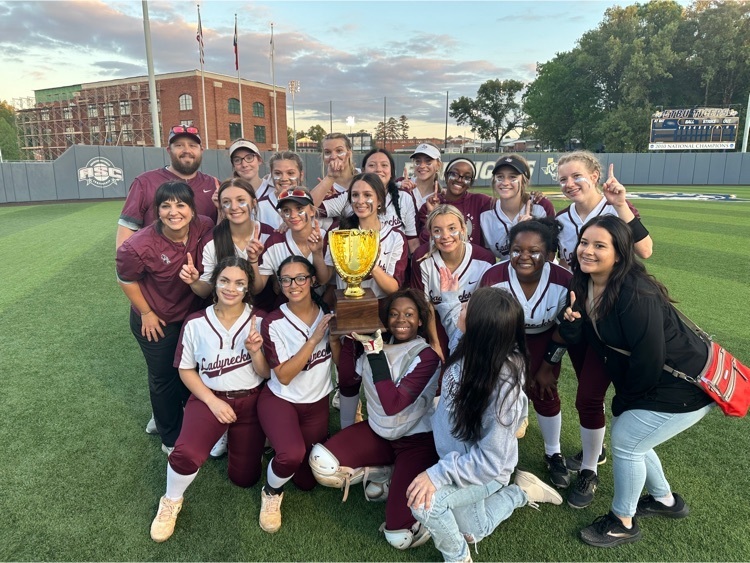 Information: White Oak ISD transfer policy, letter from Dr. Paul.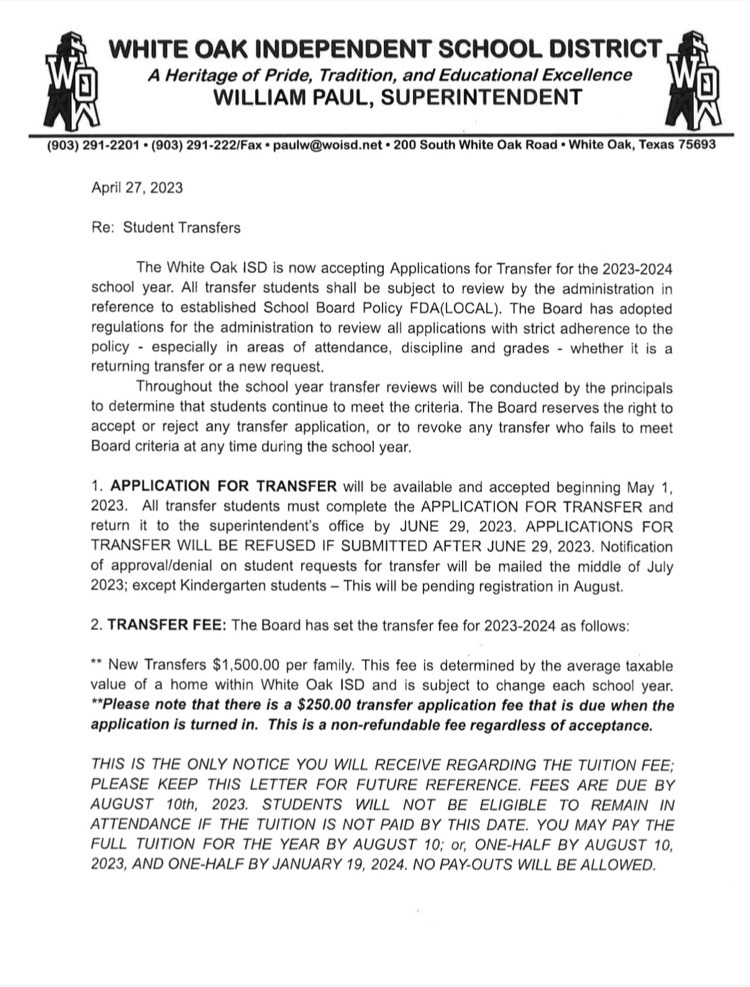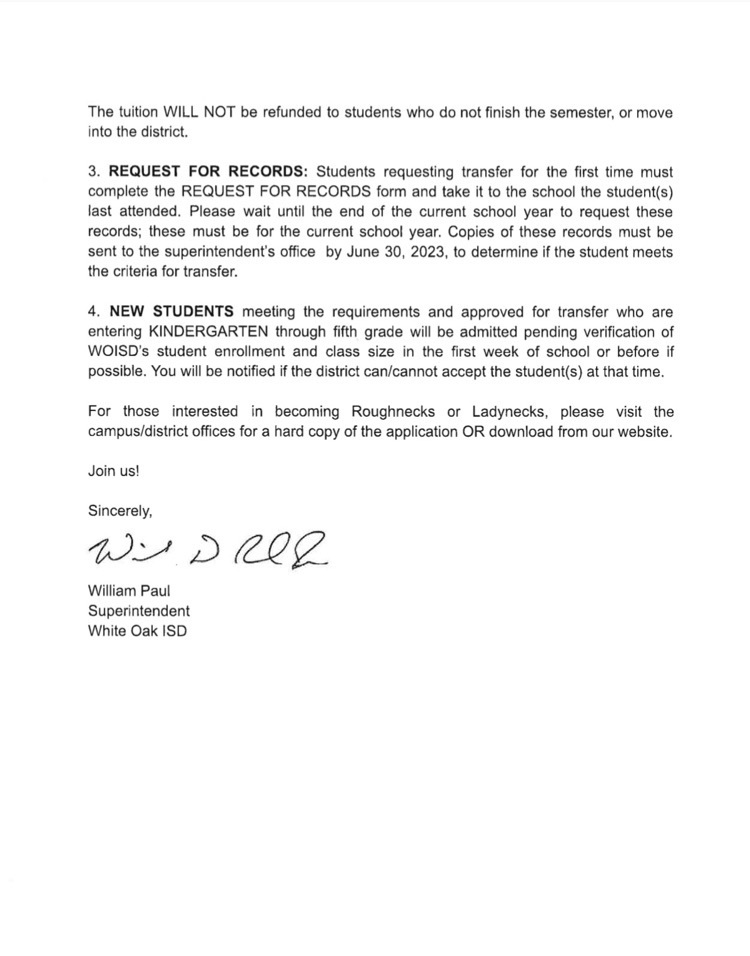 The varsity softball team enjoys Sonic drinks from high school principal, Jack Parker. The Ladynecks will face off against Elysian Fields tonight at 7:30 at ETBU. Game 2 same time and place tomorrow. night. Game 3 will be at 6:30 p.m. Saturday at ETBU if needed.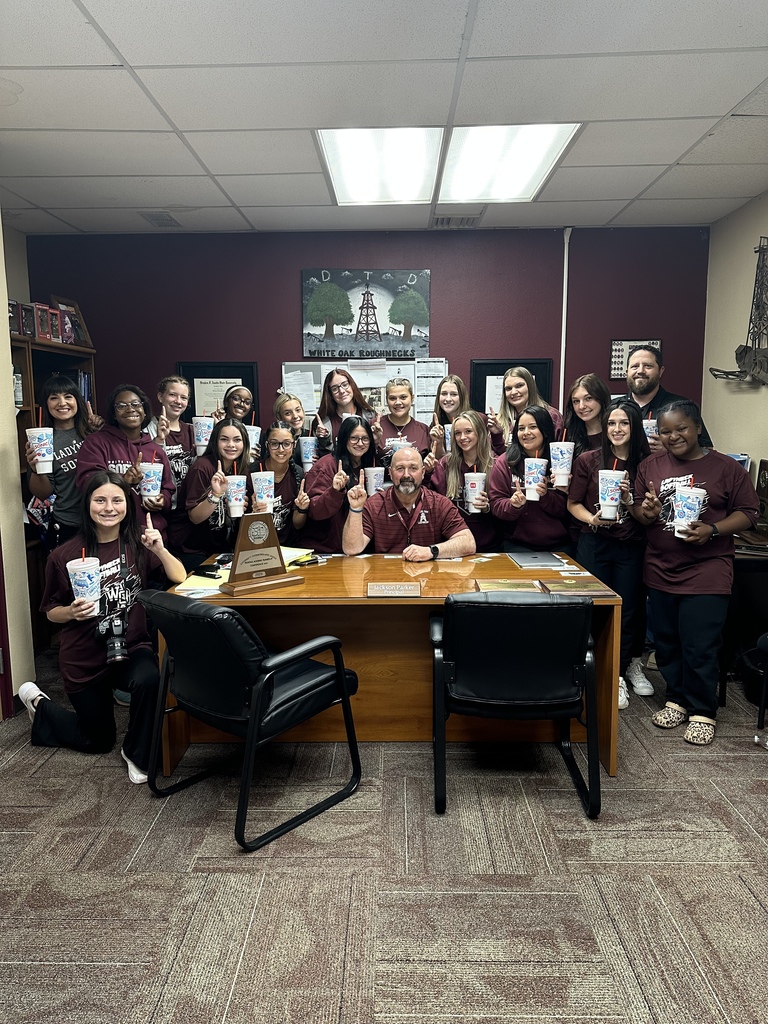 Congratulations to these WOHS students!! They are State Bound!!! Austin here we come!!
Order your SOFTBALL DISTRICT CHAMP shirt TODAY!! DEADLINE TO ORDER IS THIS Wednesday, APRIL 26th!! DON'T MISS OUT!! If you have any questions, email -
wosoftballmomsclub@gmail.com